Boy do I have a treat for you guys today, Hot Dog: The Movie!!!! Hot Dog: The Movie is the absolute most cliched and generic film of the 1980's. Its nothing but stupid one liners, and gratuitous sex. The plot follows a young skier as he has to beat his rival, a world famous freestyle skier from Austria, just on the principle that the Austrian and his crew are all jerks. The movie is basically a Friday the 13th without any killing.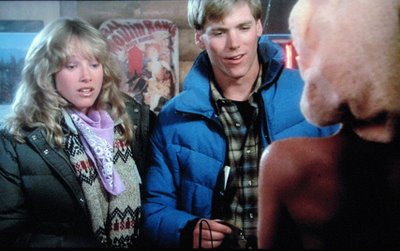 The clerk at the motel answers the bell naked
The skiers are all one dimensional stereotypes and the whole film is padded with nudity, sex and partying. Its delicious, delicious cheese, and I can't get enough of it. The soundtrack is actually really good, which is an actual compliment. The film stars Patrick Houser as the hot shot young skier, and David Naughton ( An American Werewolf in London) as the burnt out and former legend, and a bunch of no name assholes. Its a film that gladly deserves the genre title, "Boy I Miss The 80s" and few other films are as gratuitous and over the top as this. Its as predictable as they come, and it has no bones about it. Its fucking stupid, cheesy, unrealistic, but man is it fun. Its perfect schlock, and its as good as they come. I rarely recommend a "so bad that its good" but this is a rare exception. Go check it out. And worst case scenario, you get to see lots of tits.
-L.K
Facebook.com/LukasKrycekComedy
Twitter @TheLukasKrycek